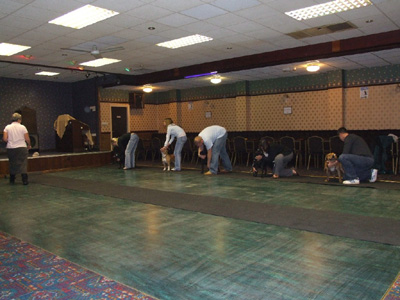 Ringcraft /Training
Would you like to train your Stafford to a show standard in a warm and friendly atmosphere amongst Stafford people.
Why not come along, If you like it, become a member of the NESBTC.
The club holds ringcraft classes and social evenings every Tuesday ( except for the last Tuesday of every month ) at 19.30 - 21.00 at Horden Labour Club in Horden Co. Durham.
For further information please contact:
Mr Tommy Hall
69 Church Lane,Ferryhill,Co.Durham DL17 8LT

TEL: 01740656198
Mr Keith Potter
34 Hopedene, Leam Lane Estate, Gateshead, NE10 8JB
Email: keithpo@blueyonder.co.uk
TEL: 0191 4211688
Mr David Tennick
18 Beech Close, Brasside, Durham, Co. Durham, DH1 5YB
Email: david.tennick@virgin.net
TEL: 01913860757